Explore the Daintree from all angles; the ground, the air and the water! 
Daintree Zipline Tour Information
Enjoy the Daintree in a whole new way with our Ultimate Daintree zipline tour. Our guides will take you past all the beautiful sights of the Daintree rainforest and Cape Tribulation including an amazing zipline experience with our friends from Treetops Adventure. 
You'll explore the rainforest canopy by ziplining up to 15m above the ground, stroll along one of the best boardwalks and hop on a river cruise to see Cape Trib's famous inhabitants: the estuarine crocodiles!
What's Included:
Walk in the Daintree rainforest & Cape Tribulation beach
Daintree River ferry
Ziplining with Treetops Adventure
1-hour crocodile & wildlife spotting river cruise
Picnic Style Lunch & Swimming Opportunity at Heritage Lodge (Please bring swimwear, towel and a change of clothes)
Ice cream stop (ice cream at guests expense)
Insect repellent, umbrella & onboard library
FREE return transfers from Port Douglas accommodation (Cairns or Northern Beaches transfers currently unavailable)
Book Now
Picnic Style Lunch & Swimming Opportunity at Heritage Lodge
Ziplining with the experienced Treetops Adventure team
Comfortable air-conditioned vehicles
Crocodile spotting river cruise
Morning tea provided
Guided expert commentary
Family
2 Adults + 2 Children
Note: This tour is available on Tuesday, Thursday and Saturday only.
Itinerary
Departure: 7:45 am

Pick up from local Port Douglas accommodation,

meet your friendly guide for the day! Commentary starts right away!

Cross the famous Daintree River by Cable Ferry

Entering the rich and diverse ecosystems of the wet tropics.

Beach walk at Cape Tribulation

The only places where two World Heritage destinations meet. Enjoy a short stroll onto Myall Beach where the rainforest meets the reef.

Morning Tea at Treetops Adventure

Fresh tropical fruit, cakes, Daintree Tea or freshly plunged coffee. 

Zipline Tour at Treetops Adventure

Fully guided zipline tour through the tranquil Daintree Rainforest

Lunch

Relax and enjoy a delicious picnic style lunch & swimming opportunity at Heritage Lodge. Please advise on dietary requirements & please bring swimwear, towel and a change of clothes.

Daintree Ice Cream Company

Visit the Daintree Ice Cream Company, a delightful tropical fruit orchard and tropical garden. Watch the butterflies enjoy the tropical garden and perhaps you may even be lucky enough to see a Cassowary. Ice cream is at guests expense. 

Crocodile & Wildlife River Cruise

Join the only tour boat permitted in the Cape Tribulation Section of Daintree National Park on a mangrove discovery tour in search of the estuarine crocodile. 

Drop Off: Approx 4.30pm
FAQs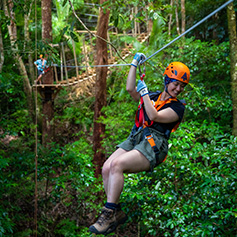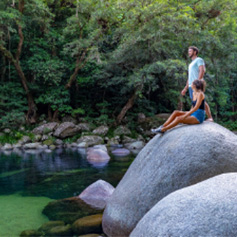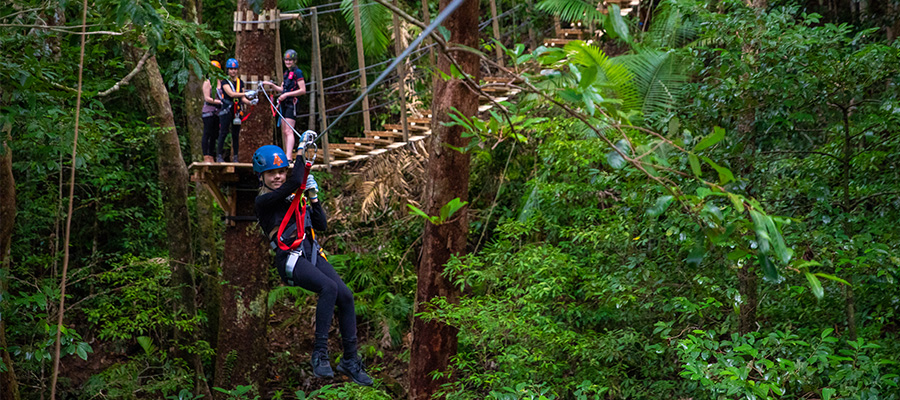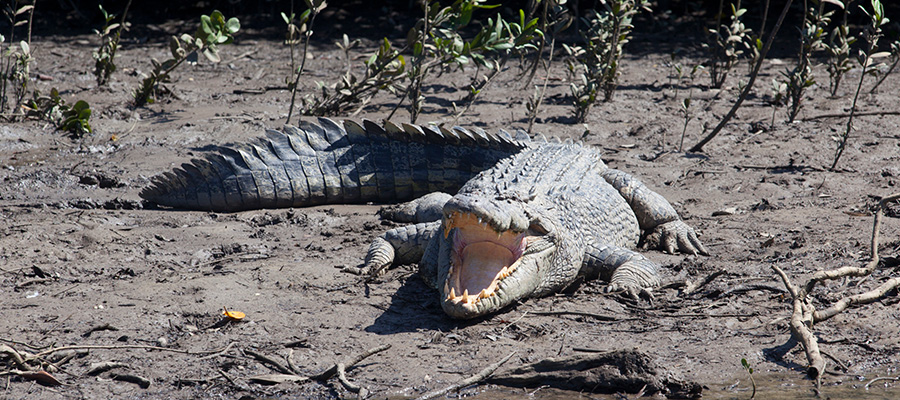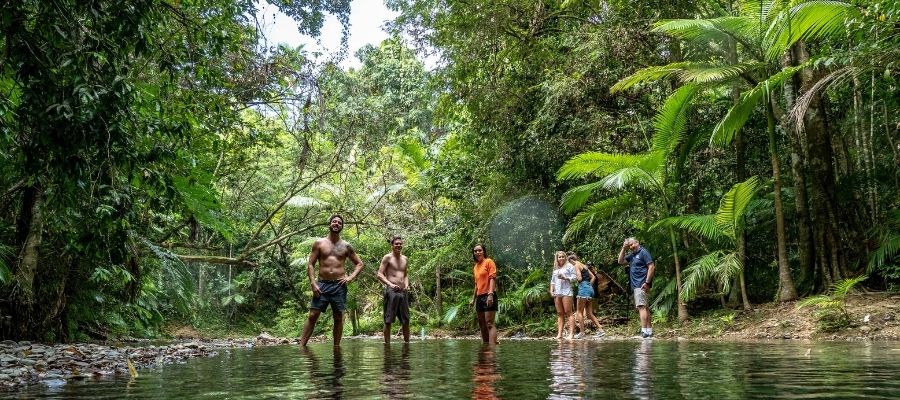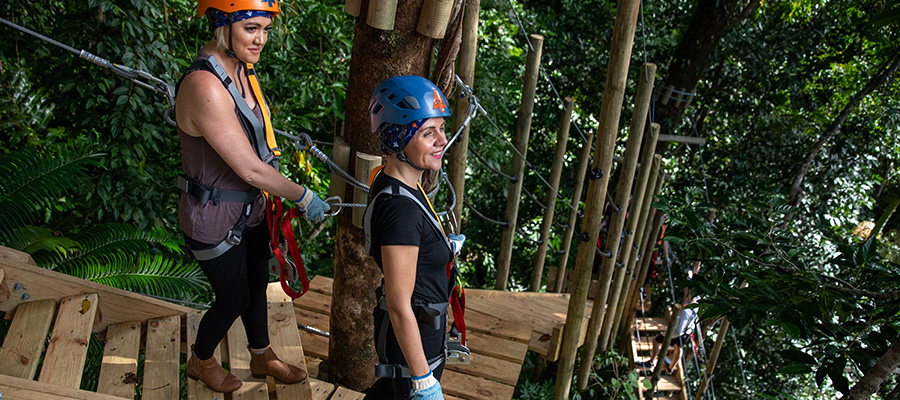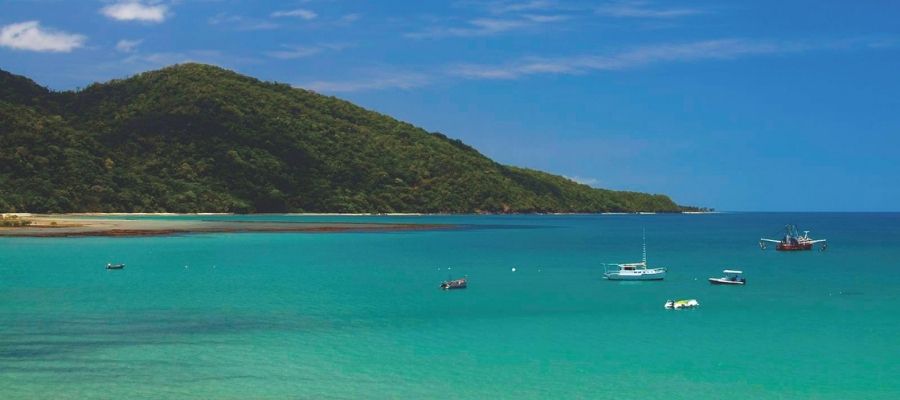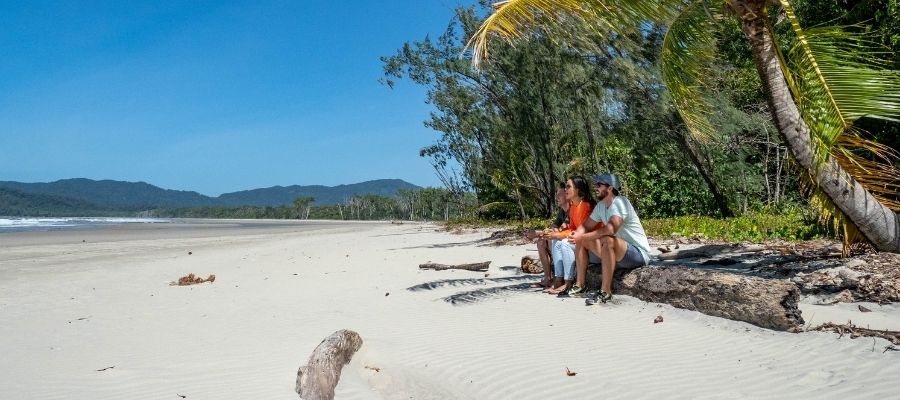 Sandra Mclaren

"We had an amazing day, our guide Ben is fantastic, so knowledgeable, lots of talking and laughing. Food was great, very comfortable tour bus couldn't ask for any better. Highly recommend this service if you want to know about this beautiful part of our country."
Lisa Bakker

"We just had a fantastic time yesterday with Ben, our tour guide. We learnt so much, laughed a lot, soaked up the beauty of the Daintree, met local characters, one who showed us crocs from his boat. It was like visiting an old friend who's showing you around the local area. The best tourism is when you feel like you're an interim part of the community and Ben did just that! It was the best way to start our holiday and we highly recommend this tour!"
Ross Beamish

"We just had a fantastic time yesterday with Ben, our tour guide. We learnt so much, laughed a lot, soaked up the beauty of the Daintree, met local characters, one who showed us crocs from his boat. It was like visiting an old friend who's showing you around the local area. The best tourism is when you feel like you're an interim part of the community and Ben did just that! It was the best way to start our holiday and we highly recommend this tour! Thank you Daintree Tours and in particular Ben for putting together a great tour."
Eloise Barker-Re

"We had the best day out today with Ben our extremely informative and knowledgable tour guide! and a lovely guy. We highly recommend this trip, it's suitable for all ages and ticks all the boxes. We had a lovely lunch followed by a dip in the creek which was bliss! Then locally made ice-cream what more could you want.
Thanks so much!"