Daintree Tours are Eco Friendly
Daintree Tours has received an Advanced Eco Certified rating. Ecotourism is ecologically sustainable tourism with a primary focus on experiencing natural areas that fosters environmental and cultural understanding, appreciation and conservation. Experience Co acknowledges the Eastern Kuku Yalanji Aboriginal people, the Traditional Owners of Daintree National Park.
Advanced Eco Certification
Advanced Ecotourism: Identifies Australia's leading and most innovative ecotourism products, providing an opportunity to learn about the environment with an operator who is committed to achieving best practice when using resources wisely, contributing to the conservation of the environment and helping local communities.
The ECO Certification logo is a globally recognized brand which assists travellers to choose and experience a genuine and authentic tour, attraction, cruise or accommodation that is environmentally, socially and economically sustainable. The ECO Certification program assures travellers that certified products are backed by a strong, well-managed commitment to sustainable practices and provides high-quality nature-based tourism experiences.
The Daintree Rainforest, located North of Port Douglas, is one of the oldest and largest rainforests in the world, estimated at over 135 million years old and stretching over 1,200 square hectares. The Daintree rainforest was added to the World Heritage List in 1988 and is a Protected Area managed by Queensland Parks and Wildlife Service. The Daintree is home to animal and plant species that have not been found anywhere else in the world. The guided rainforest walks teach the guests about the flora and fauna of the rainforest.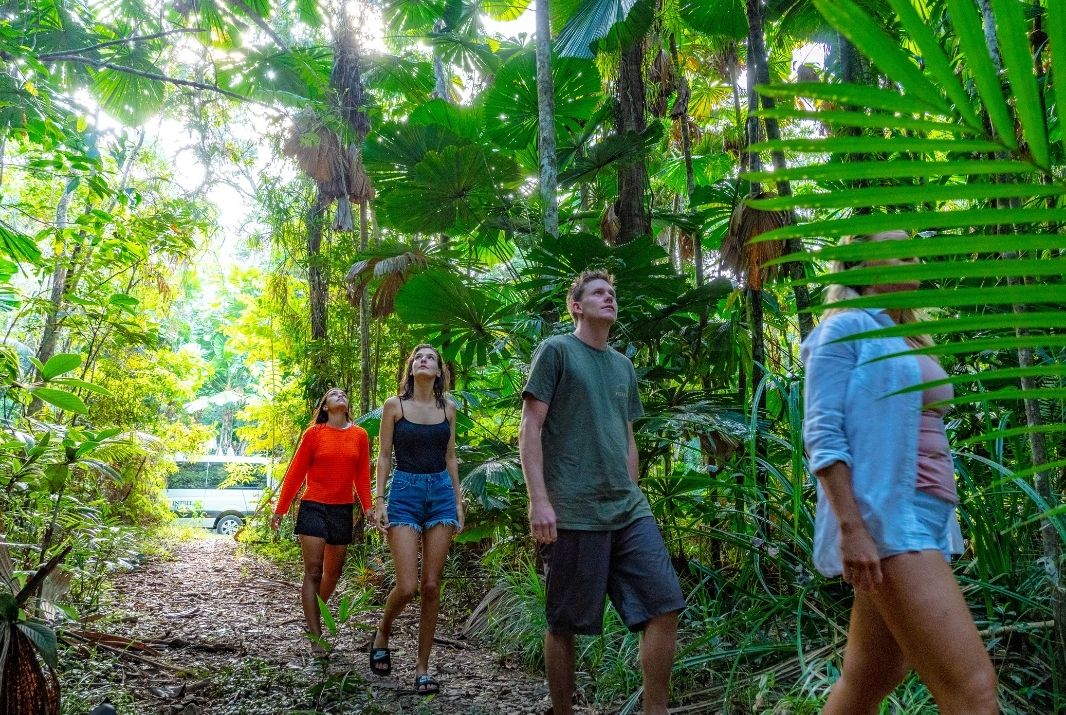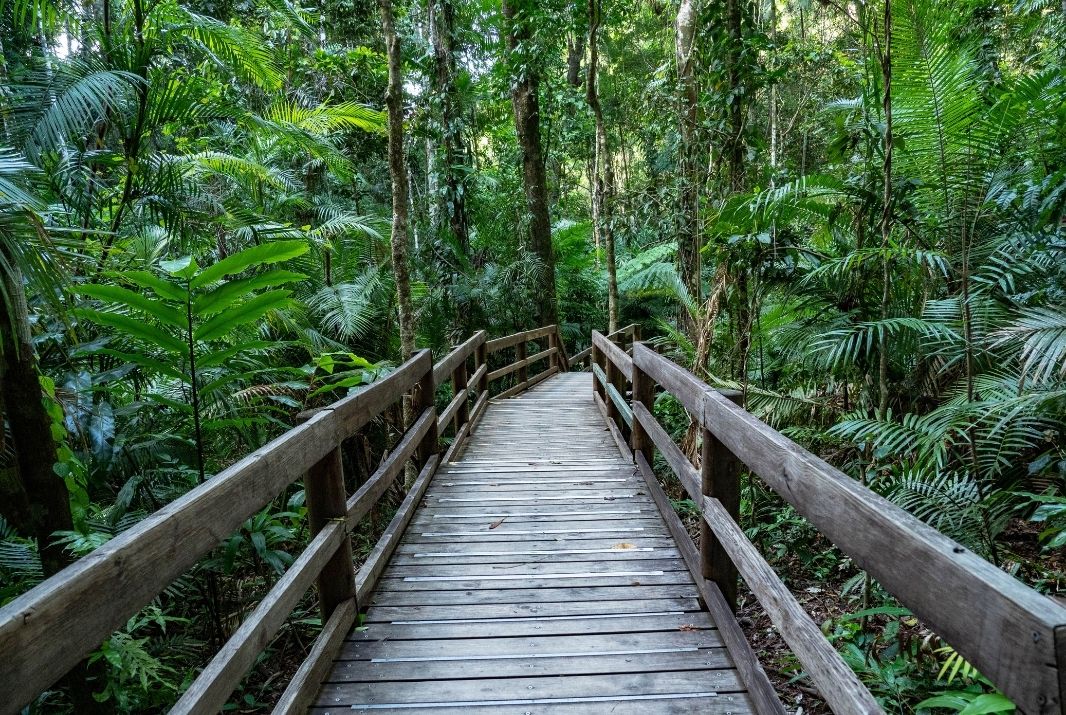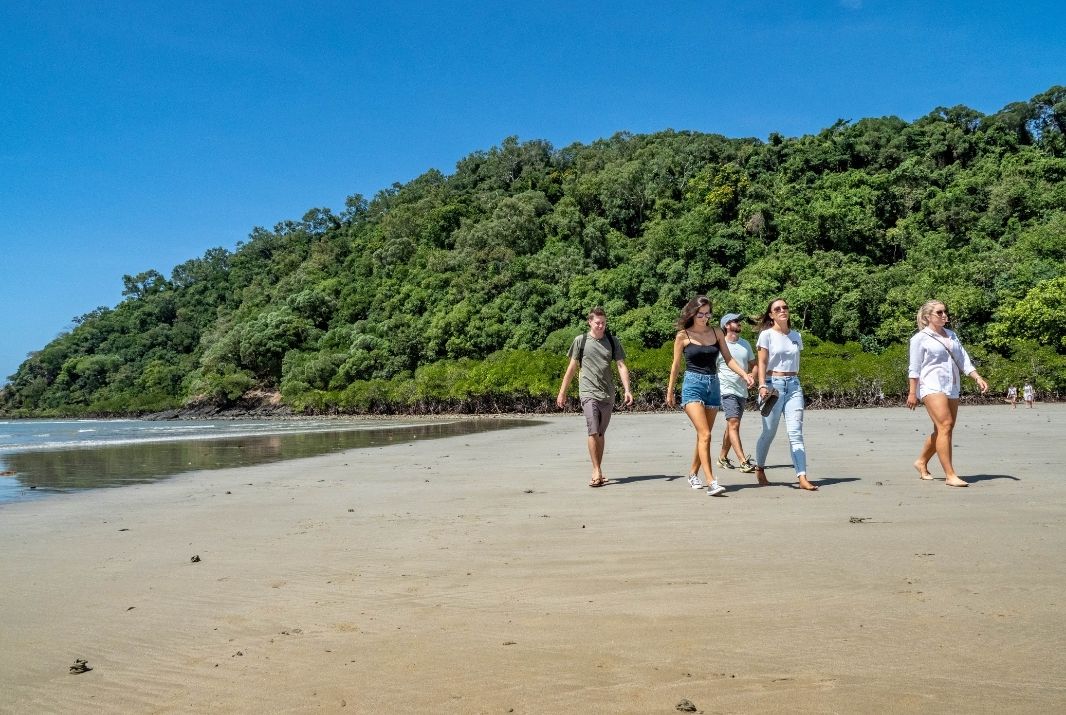 Climate Change Action
Climate Change poses one of the greatest threats to coral reefs as warming seas can trigger coral bleaching. At Daintree Tours, we have implemented strategies to tackle climate change by reducing our carbon emissions. Some examples of this action include:
We minimise waste and recycle whenever possible. We minimise and track our emissions carbon footprint by using an emissions calculator. Our vehicles are custom-designed and serviced regularly to maintain optimal fuel efficiency. We outsource catering to local restaurants who source their products locally, and use recycling facilities in all our operations. Commitment to replace Daintree Tour vehicles with the Green Vehicle Guide rating.
Experience Co is committed to establishing an emissions baseline to assess our impact and make meaningful changes to improve. Guests visiting the region are encouraged to make sustainable choices. Experience Co is committed to minimizing adverse impacts on the environment, promoting environmental stewardship, and reducing carbon emissions. Some of the current initiatives include the following:
When travelling we encourage our guests to ensure their environmental practices in everyday life are maintained away from home and to use local energy and water efficiently. We recommend that you check soaps or detergents are biodegradable, never litter and recycle where you can. Visitors to Australia can choose to offset their travel emissions through organisations such as Climate Friendly that provide emissions calculators for a range of activities.
Guests are also encouraged to support tourism operators who have achieved the Ecotourism Certification logo. Ecotourism Australia Certification allows travellers to Australia to identify and support operators who meet the benchmark and so ensure tourism products have minimal impact on the environment.